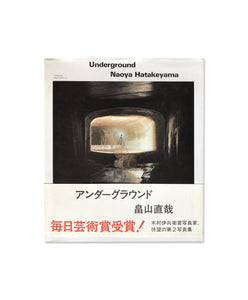 NAOYA HATAKEYAMA
UNDERGROUND 

Published by Media Factory, second edition 2003
Book size 28 x 25 cm 
Pages 66
Hardcover
Language Japanese and English 
Good condition 
While walking through the streets of Tokyo, Naoya Hatakeyama saw a small stone. It reminded him of the way home from school when he was a teenager, he used to have fun kicking the stones that were in the way. Out of nostalgia, he decided to give light blows to this small stone and let himself be guided by it. Without noticing, he arrives at the entrance of an underground passage and, out of curiosity, decides to enter it. He then found himself in the dark, in order to capture the images of this wet and concrete place he had to create without a single source of light.  
---
Alors qu'il se promène dans les rues de Tokyo, Naoya Hatakeyama aperçoit un petit caillou au sol. Cela lui rappela le chemin du retour de l'école lorsqu'il était adolescent, il s'amusait à donner des coups de pieds dans les pierres qu'il rencontrait sur son chemin. Par nostalgie, il décide de donner des légers coups dans ce petit caillou et se laisse guider par celui-ci. Sans s'en aperçevoir il arrive devant l'entrée d'un souterain et par curiosité décide d'y entrer. Il se retrouve alors dans la pénombre , afin de capturer les images de ce lieu humide et bétonné il dû créer sa propre source de lumière.